Past Research Integrity Awards
Past Research Integrity Award Recipients 
From 2015-2017, the Research Ethics Program has partnered with UC San Diego's long-standing Academic Integrity Awards program to celebrate faculty, students and allies who foster research integrity. UC San Diego recognizes campus community members who have made substantial contributions to academic, research and professional integrity over the previous 12 month period.
2017 Research Integrity Award Recipients
Sophia Pan            Visiting Ph.D. Student            
View all 2017 Integrity Award Recipients. 
2016 Research Integrity Award Recipients
 

Student Award

 

Jamie Schiffer

 
 
 

Faculty Award

 

Camille Nebeker

 
 
 

Ally Award

 

Marianne Generales

 
 
 

Robina Shaheen

 
Note: Schiffer, Nebeker, and Generales are pictured with the 2015/2016 Academic Senate Division Chair Robert Continetti and Vice Chancellor for Research Sandra Brown. Shaheen is pictured with Dean, Division of Physical Sciences, Mark Thiemens and Research Ethics Program Director Michael Kalichman.
Press Release, 2016: UC San Diego Recognizes Contributions to Campus Integrity
2015 Research Integrity Awards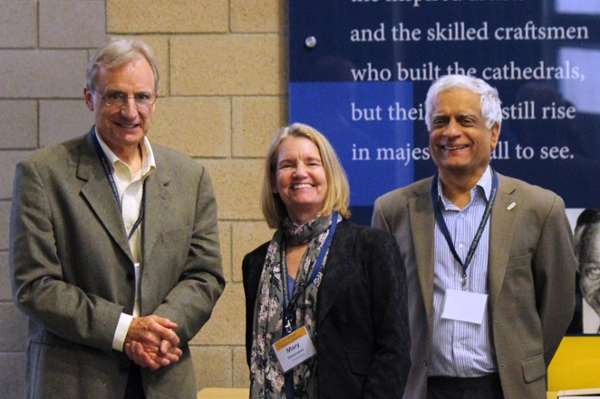 Dr. Mary Devereaux receives her Research Integrity Award, April 2015.
On April 14, the first annual research integrity awards were announced. Paralleling an existent annual award program for Academic Integrity, three categories of Research Integrity were honored by the UC San Diego Research Ethics Program for 2015. Highly impressive candidates were nominated for all three awards, resulting in difficult judgments for the reviewers to select the award recipient in each category. The winner of the 2015 Student Award is Christopher Deboever. Deboever, a graduate student in bioinformatics, impressed his nominators as having a "commitment to research ethics… made on his own… not as part of his graduate work …and for which he sought out opportunities for continued learning and opportunities to make an impact." The Student Award in Research Integrity recognizes a student or alumnus, who has contributed significantly to creating a culture of research integrity through the volunteering of their time and energies and/or by exhibiting courage in speaking up to challenges in research integrity. Deboever has modeled integrity in the practice of his research, in his participation in  outreach programs to engage the public, and by being part of an international project involving China and the U.S. to develop shared approaches to promoting research integrity.
The winner of the 2015 Ally Award is Dr. Mary Devereaux. Devereaux, an Academic Coordinator in the Department of Pathology, was described by nominators as having "sought to help all of us maintain a continuing conversation about research ethics, teaching us that research integrity relies on lifelong  learning, review of our views and our activities, and engagement with our peers and those we hope to serve." The Ally Award in Research Integrity recognizes a campus member or organization whose
support of research integrity surpasses expectations. Trained in philosophy, Devereaux redirected her career to research ethics and integrity beginning over 15 years ago. Her contributions to campus conversations about ethics are numerous. She is the co-founder and now director of the Biomedical Ethics Seminar Series, a monthly program of conversations open to all members of the university community to discuss diverse topics involving medical ethics, bioethics, and research ethics. After
Californians voted to allocate 3 billion dollars to stem cell research, UCSD and other local research institutions recognized that it would be important to provide stem cell ethics education for all stem cell researchers. Nearly all of this education has been provided by Dr. Devereaux. She has also taught numerous UCSD courses in scientific ethics for graduate students and postdocs. Her teaching evaluations are consistently highly laudatory. Finally, since 2013, Dr. Devereaux has been an invaluable resource to the Research Ethics Program, serving as Assistant Director, helping with planning and administration of program responsibilities.
The winner of the 2015 Faculty Award is Dr. Dena Plemmons. Plemmons, an Adjunct Professor in Anthropology, was described by nominators as having a "national reputation as a leader in studying the effectiveness of RCR instruction" and modeling "the kind of commitment to research integrity we hope to inspire in students and trainees." The Faculty Award in Research Integrity recognizes a faculty member who has contributed significantly to research integrity through at least one of the following: research, teaching, and service. Plemmons has been teaching and conducting scholarship on research integrity education for nearly a decade. She has taught more courses in scientific ethics for graduate students and postdocs at UCSD than almost anyone, while her teaching evaluations consistently rank at  the highest levels. At the same time, she has applied her skills as a social science researcher to the study of goals, methods, and effectiveness of teaching about research integrity. The results of her numerous publications have helped to inform not only what is done for teaching research integrity at UCSD, but internationally.
Please join us in congratulating the winners of the UC San Diego 2015 Awards in Research Integrity!