Rebekah Yohe-Lawrence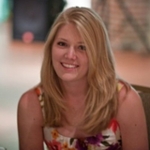 9500 Gilman Dr
La Jolla , California 92093
Profile

Rebekah Yohe, a Maryland native, graduated from the Maryland Institute College of Art (MICA) in 2013. She has a Bachelor of Fine Arts degree in General Fine Arts and Creative Writing. For the past five years Rebekah has taught and developed specialized art lessons for various nonprofit organizations. Since moving to San Diego in 2014 she has managed and developed education programs and events at Lux Art Institute. During her time as Education Coordinator she fostered relationships with local organizations to promote and grow the education department at Lux.  

While in school Rebekah worked with the City of Baltimore and a local nonprofit to plan an event for Baltimore City Public Schools. In addition, she has worked with numerous museums such as, the Baltimore Museum of Art, and proposed marketing strategies to increase the number of visitors.

Rebekah continues to volunteer and teach at museums and organizations around San Diego.